Attachments interface displaying incorrectly
Hi there,
I spoke with your support team over email and was advised to post here to a fix a problem with the Advanced Attachments plugin on my website: https://drywallplasterersaustralia.com.au/community/
The interface is displaying incorrectly as seen in the screenshots attached..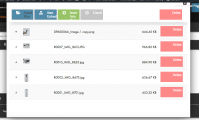 They said, "This is a CSS conflict with your WordPress theme."
Appreciate the help!
Hi @Astghik,
I have approved your posts and reduced the min number of posts to attach a file.
Thanks
Thank you @dpa,
Please add the following CSS code in Dashboard > Forums > Settings > Styles > "Custom CSS code" textarea, save it, delete all caches and check it again (press CTRL+F5 on forum frontend). I see a small issue with the icon of the reply button. I've provided the code to solve the issue with the icon as well. 
span.wpfa-button-text {
   width: auto;
   font-size: 12px;
}

#wpfa_dialog, #wpfa_dialog * {
   line-height: inherit !important;
}

/*reply button icon*/
#wpforo-wrap .fa-reply:before {
   content: "\f112" !important;
}