Guides for Post Pagination?
Hello there, Firstly you guys got a great plugin but,
I couldn't find any video or guide if i just downloaded your free plugin from wordpress and use it for my post pagination,
I'm having a hard time figuring out how it works for multiple pagebreaks in a post so can you guys put something up for it?
Thank you,Sincerely Yash
Hi Yash,
ACP adds a new icon on Post/Page editor, which will allow you to split the post content to multiple pages very easy.


This icon opens a popup screen with pagination button customization fields: Title (for free version) and Title, Description and Thumbnail (for pro version). You'll be able to upload or choose an image from WordPress Media Library. Also there is an interactive pagination button creator which works automatically under this form and  shows current layout of active content pagination buttons.
Also we have a video on Wordpress.org plugin description page, which shows how to create a page in post content. here is that:
Also you   can read ACP Pro Article here:  http://www.gvectors.com/advanced-content-pagination/
Thank you
Artyom
Hi Artyom,
Thanks for your response, I did watch those videos and the tutorial but i'm having an issue when i select multiple paragraphs of my post content into your plugin's [nextpage] …. [/nextpage] tags, the last post still appears under the navigation buttons for the middle posts.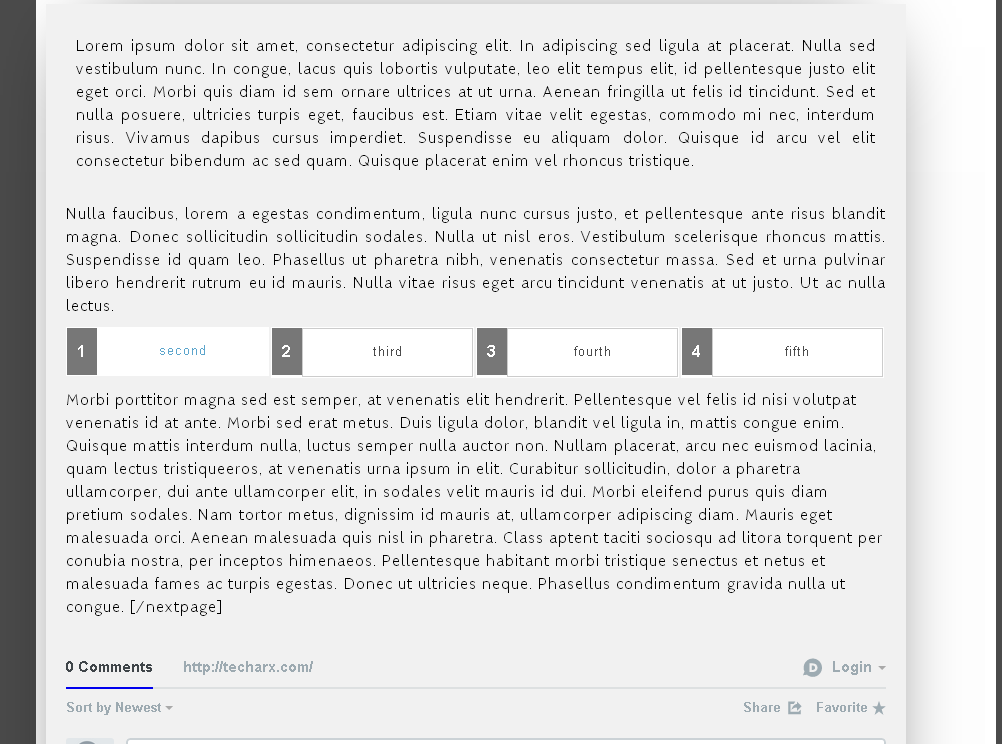 I'm attaching the screenshot of the issue here, Can you assist me with this issue of mine, the theme is custom built.
You've done something wrong.
Could you please send an admin access to your Dashboard to support@gvectors.com ?
I am adding those plugin links the same way as the video showcases, and i even removed that [/nextpage] link.
Anyways i'm sending you an invitation at that id, you'll get it soon.
Regards, Yash.
Also I see you have an extra [/nextpage] on end of your post content. This definitely shows that you've missed the open shortcode or it's located in a wrong place, e.g. in another page content.
Please try to create these pages again, and please be more careful when selecting a part of text before clicking the ACP popup button.
The right syntax is this:
[nextpage title="Your title 1"] Page 1 content text... [/nextpage]
[nextpage title="Your title 2"] Page 2 content text... [/nextpage]
[nextpage title="Your title 3"] Page 3 content text... [/nextpage]
[nextpage title="Your title 4"] Page 4 content text... [/nextpage]
Ok, I see the problem,
First, I'd like to say that you have messed one [/nextpage] for 6th page, then I found a lot of HTML code in [nextpage] shortcode. I found something like this:
 [<span id="a6f045bb-f2c1-4a91-98ab-c5f6d194f8b2" class="GINGER_SOFTWARE_mark">nextpage</span> title="First"<span id="53f45b76-9cc4-4e07-a7ac-b9e71daa175a" class="GINGER_SOFTWARE_mark"> ]
 [</span>

/

<span id="1dcd6122-2203-4c25-9a23-82e17ba6c75b" class="GINGER_SOFTWARE_mark">nextpage

</span>

]
What is this? Why you have so many HTML in your shortcodes? You should sometimes switch to the |Text| tab on post editor to see how clear is your content This totally affected shortcode and it'll not be able to work.
Please note that whole content of your post is hacked with GINGER_SOFTWARE_mark HTML code, please watch this video, It shows how I fixed the pagination problem, also it shows how terribly hacked your post content with GINGER_SOFTWARE_mark HTML codes: http://screencast.com/t/2s6eye5a5
Also I'd like to note you that your PC ha a virus or something like that called GINGER, all your contents comes  with GINGER html codes. On this video I show the difference between your post content and a clean post content made by me: http://screencast.com/t/LIddDNEb
Please read this articles and clear your PC:
http://www.2-spyware.com/remove-ginger.html
https://support.mozilla.org/en-US/questions/974684
Thanks Artyom for the help, Yes, even I, am fed up of Ginger software and i thought that as an inbuilt feature of WordPress to edit text and put them correctly, I forgot i had that as my Chrome extension hence ill remove it straight away.
Thank you, Sinciearly Yash.