Paid Addons Support Forum Only
Please note, that here we only support Paid Addons issues and questions.
gVectors Support staff works from 6am to 6pm (GMT+0)
All questions related to wpForo and wpDiscuz free plugins should be asked in the corresponding plugin support forum:
Image Title and Alt Tag issue: If attach a few images in single shortcode
Hi
I noticed today that when I attach multiple images in one go to be inserted into forum post, not single ones every time between the shortcode, then all images get the same alt and title tags as first one I added to insert into post [reply/answer]. 
If I add one single image at a time and then write text and add another image this does not happen.
Screenshots: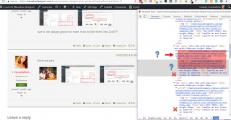 How to resolve this issue? A bug I assume.
It is happening on this post as well. Hove and you'll see or look at source code.
TERRIBLE for SEO this. 
thx