Paid Addons Support Forum Only
Please note, that here we only support Paid Addons issues and questions.
gVectors Support staff works from 6am to 6pm (GMT+0)
All questions related to wpForo and wpDiscuz free plugins should be asked in the corresponding plugin support forum:
7.0.3 embedded URLs no longer working
Updated everything to the latest version today and largely looking great BUT all the autoembedded urls (youtube mostly) are now just links. Please advise. 
I should add that media loader also doesn't show up in the addons settings list in the admin area and I'm still being prompted to purchase media uploader on the comment content and media page. I did see the regenerate whatever button (forgot what it said) and pressed it and all seemed to go fine.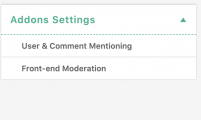 Hi @daisypeel,
Please wait for 1-2 days. We're preparing the new wpDiscuz Embeds addon. You'll get a free license for this addon if you have an active license for the wpDiscuz Media Uploader. We're currently preparing the wpDiscuz Embeds addon. It'll bring all old embeds option and lots of new features.
That will be great - my site is an online classroom and there are a lot of video links posted. Having them showing as links creates extra work for the instructors, so I eagerly await the new plugin.