Paid Addons Support Forum Only
Please note, that here we only support Paid Addons issues and questions.
gVectors Support staff works from 6am to 6pm (GMT+0)
All questions related to wpForo and wpDiscuz free plugins should be asked in the corresponding plugin support forum:
7.0.3 embedded URLs no longer working
Thanks for this. However, it seems that the plugin isn't quite working - there are some posts with youtube videos that don't render properly, even after I edit the comment, make sure that the link is on its own line, etc. - is there something else I need to do to make sure all the links are embedding properly?
Information has been emailed. Thanks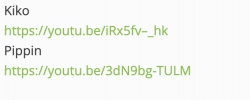 Example of links that don't work. Checked to see that they were on their own line with no extra characters (they were). Most of the videos posted are set as unlisted since they're part of an online class and shouldn't be public. But there are plenty of unlisted videos that DO embed. Just several that also do NOT embed. If I repost the links in a follow up comment they usually DO work.
Just wanted to let you know that a member reported today they couldn't get their video to embed when they were also trying to tag me on a comment. When they edited the comment and removed the tag, the video showed up fine.