[Solved]

Comment Author Info pagination stopped working
Hi @pmsanz,
You have a js error. Please see the screenshot below.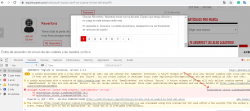 Please exclude wpDiscuz Comment Author Info add-on's js files from Autoptimize plugin settings.
The js files can be found in \wp-content\plugins\wpdiscuz-comment-author-info\assets\js
The issue should be solved.
Please don't forget to delete all caches and press CTRL+F5(twice) on the frontend before checking.
Please follow the steps below:
1. Open the /wp-content/plugins/wpdiscuz-comment-author-info/includes/layouts/activity/activity-page.php file
2. Find the 23 line 
3. Replace the code from 23 to 27 lines with the following one:
if (isset($comment->comment_author_email)) {
            $args['author_email'] = $comment->comment_author_email;
        }else if (isset($user->ID)) {
            $args['user_id'] = $user->ID;
        }