Paid Addons Support Forum Only
Please note, that here we only support Paid Addons issues and questions.
gVectors Support staff works from 6am to 6pm (GMT+0)
All questions related to wpForo and wpDiscuz free plugins should be asked in the corresponding plugin support forum:
[Solved]

Regenerate Attachments Button
Hi
Just upgraded to 7.0. Everything ok but my addon Advanced media Uploader (v7.0) is giving this message in the dashboard: -
Please navigate to settings page and click Regenerate attachments button.
However, there is no button?
Please navigate to the Dashboard > Comments  > wpDiscuz > Settings > Comment Content and Media admin page find and click on the "Regenerate attachments" button and check again.
Hi Elvina
Just updated to 7.01 which should fix this bug but I still don't have the button.
See attached screenshot. The screen says: By default wpDiscuz allows to attach one image with comment. For an advanced media uploading and file attachment options we recommend wpDiscuz Media Uploader addon.
I already have the addon

Should this button not be in the tools section where all the other regenerate buttons are?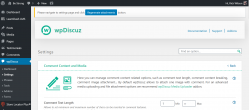 I have exactly the same 'problem'. I still have version 7.0.0. installed. But it says I installed last version. 
Ok. I think I am ok. Solved for me.
Layout changed and I didn't see that the "attachment" was also for images.