Paid Addons Support Forum Only
Please note, that here we only support Paid Addons issues and questions.
gVectors Support staff works from 6am to 6pm (GMT+0)
All questions related to wpForo and wpDiscuz free plugins should be asked in the corresponding plugin support forum:
can't upload png images
How can I upload PNG images with media uploader?
Hi @itlr,
Just need to click the upload image icon of the comment form.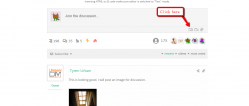 Also please try to upload the same image on wpDiscuz Media Uploader demo website and let us know how it works. 
https://wpdiscuz.com/addons/wpdiscuz-media-uploader/#comments