Paid Addons Support Forum Only
Please note, that here we only support Paid Addons issues and questions.
gVectors Support staff works from 6am to 6pm (GMT+0)
All questions related to wpForo and wpDiscuz free plugins should be asked in the corresponding plugin support forum:
Exclusions based on user role/permissions
Topic starter
24/01/2019 1:06 pm
Hi
I have a feature request.  When it comes to posting a URL I want to be able to apply different rules for different user roles.
For example I don't want a brand new user to be able to post a URL since it could be spam, but a trusted user who has a different role should have no restrictions.
Can you please add this in your next release?  An option to exclude certain user roles from the rule regarding the posting of URLs
Thanks
Hi @vectec,
Thank you for this suggestion. Could you please let me no do you use wpForo as a forum plugin? 
If yes, wpForo already has such a feature. wpForo Spam Control has an option to restrict new registered users to to post links and attach files. There is a level (minimum number of posts) they must have to post links.
Topic starter
24/01/2019 2:50 pm
Yes I am using wpForo but I didn't see this option.   This would be what I'm looking for.   Where is the spam control option I'm not seeing it?
Thanks
All options for Spam control you can find on Dashboard > Forums > Tools > Antispam admin page.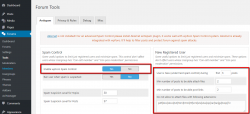 More info here: https://wpforo.com/community/wpforo-announcements/wpforo-1-2-0-is-released/#post-7905
Topic starter
24/01/2019 3:28 pm
Great, thank you!   That is just the kind of option I was hoping to have with your forum but I was looking in the forums section and I never checked the tools option.