Install issue
Hey there,
I purchased the plug-in March but just tried to install it. My site gets quite a few comments and the wp-politefier plugin I have been using is very old.
Anyway, I installed the add on and have my text document of censored words. I've checked and all of the curse words are each on their own line.
In wpDiscuz settings, I am able to choose the text file but when I hit "Save Changes", the screen goes blank except for the top and left border of my WP dashboard.  I went into the plug-in editor and looked at comment-censure/assets/words.txt. It wasn't my list of words so I pasted mine in and updated the file.
I can't tell if it's working correctly or not. Also, I'm not sure how to add custom replacements for words. Ideally I'd like to have an * replace each letter of the censured word.  I'm not seeing any options to do that. Are there any instructions on how to set up the plugin?
Any help would be appreciated.
Here's what I see: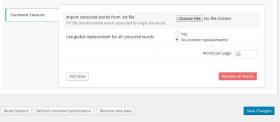 Hi Trevor,
Please be careful with red [Remove All Words], just use blue [Save Changes] button when you do some changes with censored words. It seems you've clicked on [Remove All Words] and all words were deleted. You can import words.txt file using "Import censored words from .txt file" uploader. You also can import a custom txt file, it should contain one word per line, here is a screenshot:
If you want to add a custom word please watch this video:  http://screencast.com/t/AI2ctnMXlPe5