[Solved]

Does it have this.
Hi @yascin,
Thank you for your interest in the wpForo Blog Cross Posting add-on.
1. Automatic cross-posting to forum topic of automatic generated posts.

3. Tool to synchronize and cross-post already existing posts to selected forum
You can create an auto cross-posting rule. You can choose the Post Category and the target Forum to enable the automatic post to topic cross-posting. Once the auto cross-posting rule is created and enabled, all future posts (not old) in the selected category will be cross-posted as topics in according forums. These rules work for manually created posts as well as for auto-generated posts.
You can also cross-post old posts. In this case, you'll just need to use the [Synchronize] button. It'll find all non-cross-posted posts of selected categories and cross-post to according to the forum as topics.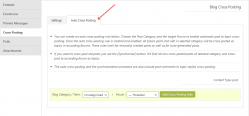 2. Include posts featured images in cross-posting
Since the add-on 2.0.0 version, there is an option to enable Featured Image cross-posting.
The information about existing features and new ones can be found here: https://gvectors.com/product/wpforo-cross-posting/
Don't forget to check the "Changelog" tab.