Paid Addons Support Forum Only
Please note, that here we only support Paid Addons issues and questions.
gVectors Support staff works from 6am to 6pm (GMT+0)
All questions related to wpForo and wpDiscuz free plugins should be asked in the corresponding plugin support forum:
Paragraph Formatting from forum to blog
I just installed the Blog Cross Posting Addon.
I had a member posts a comment in my forum yesterday that was broken into 4 paragraphs. It cross posted to my blog without any paragraph formatting, appearing as one long paragraph only. Is there something that can be done to preserve the paragraph structure in the future?
See screen shots below of the forum post and the cross post to blog.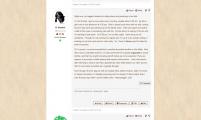 May not be a problem after all. I just replied to a forum post writing 2 paragraphs. It crossed over to my blog with perfect paragraph formatting.
So, I took a look at the time of the other forum post I mentioned, and it looks like it was posted while you were working on my other problem yesterday. Perhaps that accounts for it.
I'll monitor it for the next few days, and if I see it again, I will respond here.