[Solved]

Bad displaying with posts composed with divi builder
Hi, I have a web with Divi theme, which uses a visual builder with modules to create and edit the posts. I asked about this before at the pre-sale quetions forum  and Astighk answer me:
I don't think it will have any effect on content in wpForo version. The small CSS conflict can be easily sovled.
So I've purchased the plugin and, as I feared, the post in the forum shows a lot of shortcodes and no image. 
Any idea how to fix thix?
If there's no solution, is it posible to recovery the moneyy?
Thanks
Enabling shortcodes it works fine now.
Hi @chusman,
Thank you for letting us know. Great to hear that the problem is solved!
I see a small CSS issue.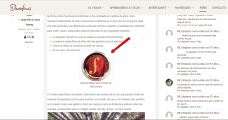 Please navigate to Dashboard > Forums > Settings > Styles admin page, put the following CSS code in "Custom CSS Code" texatarea, save it delete all caches, do CTRL+ F5 on frontent.  
#wpforo-wrap .wpforo-post .wpf-right .wpforo-post-content img {
   margin: 26px 2px !important;
}