Paid Addons Support Forum Only
Please note, that here we only support Paid Addons issues and questions.
gVectors Support staff works from 6am to 6pm (GMT+0)
All questions related to wpForo and wpDiscuz free plugins should be asked in the corresponding plugin support forum:
[Solved]

Large Whitespace/GAP In Footer
Ever since the new Wordpress update today, my website immediately left very large whitespace or gap in the footer area, at the bottom of the site so I went through troubleshooting by disabling every plugins and theme then tried them all through so that helped me to figure out which plugin is the problem. After successfully slowly activating plugins, all was well except wpDiscuz Comment Author Info.
For some reason, that plugin is causing a big white disabled field looking alike, or a big white square in the footer area/bottom of the site. I have screenshots two images, first one with wpDiscuz Comment Author Info deactivated (only one plugin deactivated) and then second with activated so you see the difference or what I am talking about. I need your help, to get rid of that are and get it back to normal like the first screenshot image. Thanks so much!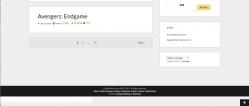 Hi @joshie,
Please leave the example URL to allow us to check it.