Paid Addons Support Forum Only
Please note, that here we only support Paid Addons issues and questions.
gVectors Support staff works from 6am to 6pm (GMT+0)
All questions related to wpForo and wpDiscuz free plugins should be asked in the corresponding plugin support forum:
wpDiscuz not accepting or showing new comments
Hiya.
I recently installed wpDiscuz on my site and it worked beautifully at first. However, in the last few days, it's stopped processing new comments posted by my users. They enter comments; the system appears to process them...and then nothing happens. From what I gather, the entry simply clears but there are no messages to the commenter. I know this because some of my users have contacted me by other means to let me know what's going on.
I'm using the latest version of Wordpress 5 with Genesis and the Eleven40 Pro theme from StudioPress. Other than some automated updates to existing plugins, I haven't made any changes to my site's configuration. So, I'm not sure what's going on, but I obviously need to get this resolved quickly. Any help or suggestions greatly appreciated...

Hi @digiquill,
I think you've installed some new plugin or updated and got JS error. Only JS error can stop wpDiscuz working on front-end. Please leave your website UR to allow us check it.
Hi, Tom. Thanks for getting back to me.
I've reactivated the plugin on my site. Here's the URL: https://www.thedigitalquill.net
New comments on blog posts are still not going through. When a commenter hits "post" now, the system just keeps processing -- never posts.
I hope there's a solution, as your plugin seems to be the most elegant and flexible of the ones I've tried.
Steve (DigiQuill)
Hi again, Tom.
Just an added note: now users can't send normal messages through my contact form either -- error message saying simply that the message can't be delivered now and the user should try again later.
I've reinstalled Wordpress to see if that would make a difference, but it didn't. I've chatted with Bluehost support, and they think it's a plugin problem. Looks like I'll have to start deactivating plugins and then reactivating to track the source of the problem...
Will look forward to your response. Thanks again...

Steve (DigiQuill)
...and the plot thickens.
I've discovered that I can leave a comment on a post if I'm logged in. If I log out and visit the site, then I can't comment. However, I've specified in general Wordpress settings that commenters do not have to log in, though they must leave their name and email address.
Clearly, I'm missing something obvious....
Hi @digiquill,
All problems come form the WP Rocket cache plugin and the HTML/JS/CSS optimization function of this plugin, it mixes all code and makes one line hashed code. All plugins JS functions are affected and crashed. I'd recommend disabe HTML/JS optimization and minification of WP Rocket. Then delete all caches, purge all optimization files and all minfyed content.
Then navigate ot website front-end, logout (test it as guest, because the cache doesn't work for admins) and press Ctrl+F5 to reset browser cache too, and check it.
Also please disable the plugin which responsive for reCAPTCHA, you have a JS error on front end caused by reCAPTCHA, it also affects all plugins. This maybe contact form reCAPTCHA. Just configure it correctly or remove it.

Hi, Tom.
Thanks for your response with the suggested fixes. I'm a real noob when it comes to this stuff, but I'll try to implement your suggestions. I'll come back with the results.
Steve ("DigiQuill")
Hey, Tom.
First, I disabled HMTM/JS optimization and minification in WP Rocket, cleared all caches and purged the optimization files as you suggested. No change, still can't comment if not logged in. Then I disabled the reCAPTCHA plugin, cleared the caches and tried again. Same result.
Then I deactivated WP Rocket and tried with a different cache plugin (WP Fastest Cache) and a different reCAPTCHA plugin. Same result. Then I deactivated the cache and reCAPTCHA plugins and tried with neither involved. Same result -- still can't comment unless I'm logged in.
Going to keep trying because I'm not sure what else to do at this point.
Steve ("DigiQuill")
Forgot to mention that when I try to comment, a thin pink bar appears just above the comment entry box. I have no idea if that means something to you or not....
Hi DigiQuill, i've got your same issue, so i think it's better to move to another plugin...
Hiya.
That was what I thought. I then tried three or four other comment plugins and got exactly the same issues. I'm actually in chat with Bluehost about all this right now.
Hi @digiquill,
Please remove the reCAPTCHA code from your theme footer. WPCF7 Recaptcha, this is a code or plugin i don't know, but you have this problem-maker code in your theme footer output.
This JS code stops all JS functions for your website it also crashes wpDiscuz. Here is that code: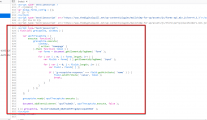 Please remove it from <script> to </script>
Hey, Tom. Will attempt to do this, though I've no clue about the how part -- a real noob, as I said. I'll figure it out and will report back.
BTW, do you have JS and Cookie controler plugin like GDPR / Cookie agreement generator plugins or service like cookiebot.com? If so, could you please disable it for a while, then delete all caches?
I see gdpr-framework, please disable it for while.
Also please purge your CDN cdnjs.cloudflare.com, I see an hard caching and CDN issues. Please reset all caches and purge CDN after disabling the gdpr-framework plugin and removing the problem maker JS error.
All these problems will stop other plugins to work as well. These kind of website issues are big problem for other plugins, so you need to fix them.
Hey, Tom. Will attempt to do this, though I've no clue about the how part -- a real noob, as I said. I'll figure it out and will report back.
You can send admin login details to support[at]gvectors.com , we'll do that for you.
Still trying to learn how to locate that script and get rid of it...this is what happens when an old guy starts mucking about with blogs and such... 🙁 I'll keep at it, but I may have to look for some local Wordpress help. The under-the-hood part just isn't my thing...
Hi, Tom. 
I've just sent the login details. Thanks for this -- I hope it's not too much of a dog's breakfast. I figured I'd done not too badly for a guy who knew zero about all this stuff not long ago. I've tried to learn it all, but I guess I've reached my current limits...
Will wait to hear from you re the outcome.
I have a good news for you. There were two problems and those are found. Now all works fine.
Fixed - Problem #1
The GDPR Framework plugin is not compatible with wpDiscuz. So we disabled it for comment forms. It's enabled for all your website excerpt for comment form. wpDiscuz has own GDPR checkbox configuration option mentioned here: https://wpdiscuz.com/docs/wpdiscuz-documentation/gdpr/right-to-be-informed/
Fixed - Problem #2
The WP-SpamShield plugin is totally crashed. It doesn't work on your website it only generates problems. All AJAX request are being stopped and returned with this error (but the JS and Cookies are enabled on our browsers, so this is the plugin issue) We disabled this plugin. Here is the error:
ERROR: JavaScript and Cookies are required in order to post a comment.

Status: JavaScript is currently disabled.

Please be sure JavaScript and Cookies are enabled in your browser. Then, please hit the back button on your browser, and try posting your comment again. (You may need to reload the page.)

 

---

If you feel you have received this message in error (for example if JavaScript and Cookies are in fact enabled and you have tried to post several times), there is most likely a technical problem (could be a plugin conflict or misconfiguration). Please contact the author of this site, and let them know they need to look into it.