wpDiscuz for LearnDash comments
Hi JDalen,
I am trying desperately trying to get the WPDiscuz comments to replace the default LearnDash comments on each page. How did you get them to show up? I see you are trying to limit them but I want them on every page as you do. Help help help! 
I attached two different page types from my website. One is a learndash lesson and the other is a blog post. I want WPDiscuz to appear on all learndash lessons/topics/courses as they do on the blog post.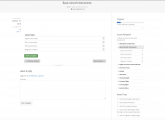 Thank you, 
Ian 
I've just discovered wpDiscuz and like it a lot; also a LearnDash user. Tom's instructions had no effect for me for some reason. I did, however, find where a change should be made.
With the Plugin Editor, change this file:
\learndash-v3.0.5.1\sfwd-lms\themes\ld30\templates\focus\index.php
Replace lines 52 through the comment on line 73 with:
<?php comments_template() ?>
to enable wpDiscuz in LearnDash 3.0 Focus Mode.
Hi @lanetownsend,
First of all, thank you for using wpDiscuz.
I really appreciate you taking time and share the information. 
My pleasure, @Astghik. I also put the following snippet together that enables wpDiscuz in LearnDash 3.0 Focus Mode, but without editing the LD source file directly as mentioned earlier.
add_filter('learndash-focus-content-content-after', 'ld_wpdiscuz_comments_enable');
function ld_wpdiscuz_comments_enable(){
comments_template();
};