Paid Addons Support Forum Only
Please note, that here we only support Paid Addons issues and questions.
gVectors Support staff works from 6am to 6pm (GMT+0)
All questions related to wpForo and wpDiscuz free plugins should be asked in the corresponding plugin support forum:
Guests all get same exact avatar and it changes each time a new guest posts
Hi there, Tom,
Why are my site's guest posts all showing same avatar? Should generate unique monsters per each person in my settings of WP. I also noticed that every time new guest post is added - avatars of all guests change to new avatar that was generated.
How to stop that and make every guest keep a unique avatar?

I have in Forums > Setting > Features disabled the HTML cache. Should I disable any other cache? I want a fast site 🙁
thx!
Hi  mamamia,
Please, delete the widget and add it again, to clean widget caches, delete all caches and test again. 
Also make sure that all emails are different.
@astghik Hi, all emails Are of course different for frontend posting we make.
I can't see why deleting a widget would be a solution. Cleared your plugin's caches and my WP Rocket's.
What's the point of having a widget if I need to do this ongoing. 
It changes nothing to delete/re-add widget.
There is no issue with logged in user gravatar/avatar.
It just happens for frontend submissions where a topic or an answer are submitted by a non-member guest. 
I still want them each to look different, not share same generated system gravatar.
I assume it is because there's a little conflict somewhere. After all, WP enables commenting from frontend and all get own gravatar/generated one even without being logged in.
Please have your dev look into this. 
I disabled my WP Rocket caching - to no avail.
It is your widgets issue.
As you can see from the screenshot, guest users maintain their unique gravatar on the actual post, just not in the widget: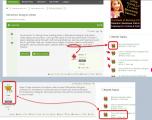 Hi mamamia,
Thank you for letting us know.
We  tested on our end, and find the reason of this issue, this will be fixed with next release.
Hi! I just opened a ticket with this similar issue. Was this ever solved? All guest users who have actual gravatars showing show the exact same Monster ID as in this support post. Was there any solution to this?
Thanks