Description
wpDiscuz – BuddyPress Integration addon is a full-fledged solution to combine and synchronize the comment system powered by wpDiscuz with the user profile system built by BuddyPress plugin. It includes notifications, activity streams, profile tabs, settings and more…
Notifications
Almost all kind of activities in the comment section generate "in-site" and email notification. All notifications go to the BuddyPress notification system and to the corresponding profile tab. Here is the full list of integrated notifications:
Someone votes my comment
Someone follows me
Someone rated my post
My comment is approved
Someone replied to my comment
Someone commented on my post
Someone mentioned me
New comment on subscribed post
New comment by followed user
All these notifications are also ready to be sent via emails. This addon allows users to manage them in the new Notifications > Settings Sub-tab. They can choose either see them on the website or receive them via email, or both. Each notification can be configured separately.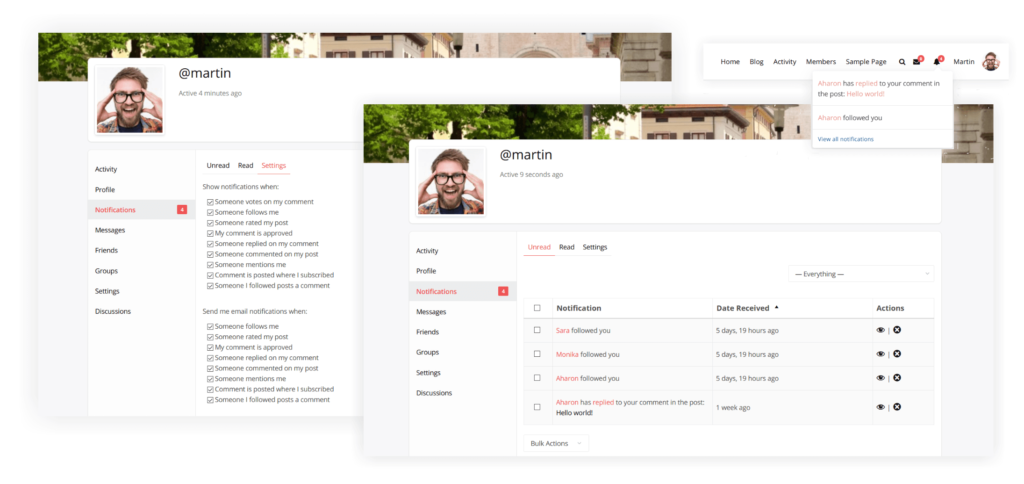 Profile Tabs
The activity of users in the comment sections of your website is moved to Users Profile Page. Users are able to see and manage comments, reactions, subscriptions, post rates, and more directly in their profile tabs. This addon creates Discussion tab with seven sub-tabs:
Comments

– All comments of the profile owner in one place

Reactions

– All comments liked or disliked by the profile owner

Rates

– Rated posts by the profile owner

Subscriptions

– Post and comment subscriptions with ‹unsubscribe› buttons

Votes

– Comments which have been liked or disliked by other users

Following

– Users list followed by the profile owner with ‹unfollow› buttons

Followers

– Users list following the profile owner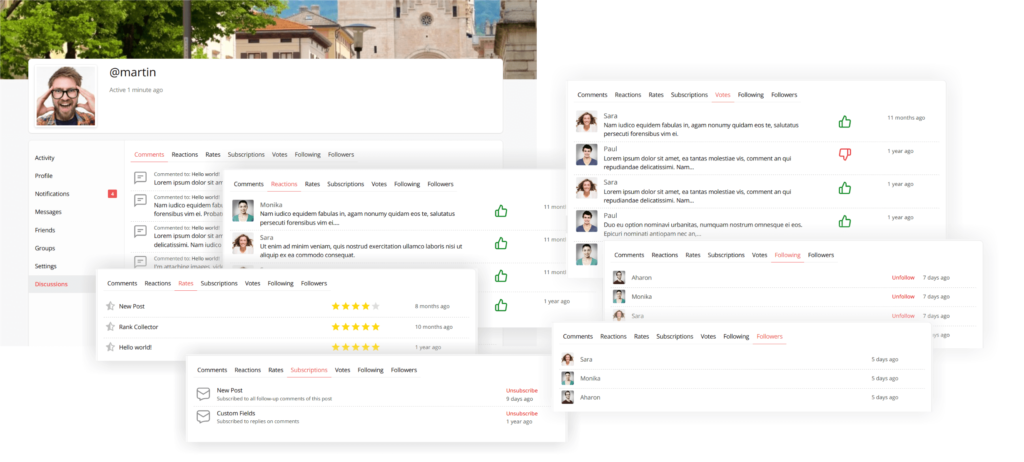 Activity Stream
All new comments, replies, comment likes and dislikes will generate corresponding activity entries in ByddyPress Activity Stream. All activities will be displayed in the general activity page and in the profile activity tab filtered by the profile owner. If you had many comments and comment votes before the BuddyPress and wpDiscuz installation you can simply import old activities into the activity stream using the Activity Importer tool provided by this addon. The tool is located in Dashboard > wpDiscuz > Tools admin page.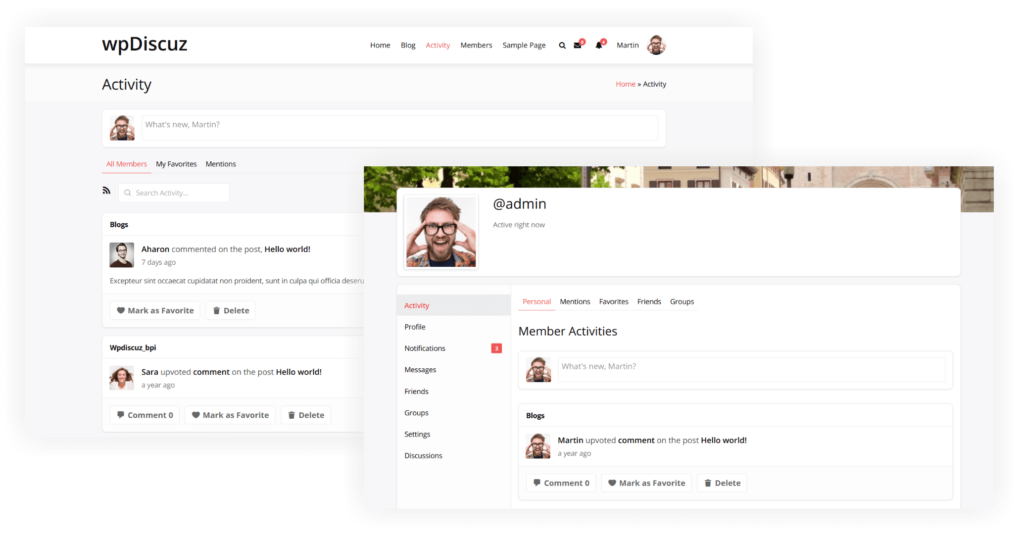 Dashboard Settings
Almost every piece of the addon is configurable in the addon settings page. All phrases can be changed and translated. You can find the addon settings in Dashboard  > wpDiscuz > Settings > BuddyPress Integration Tab: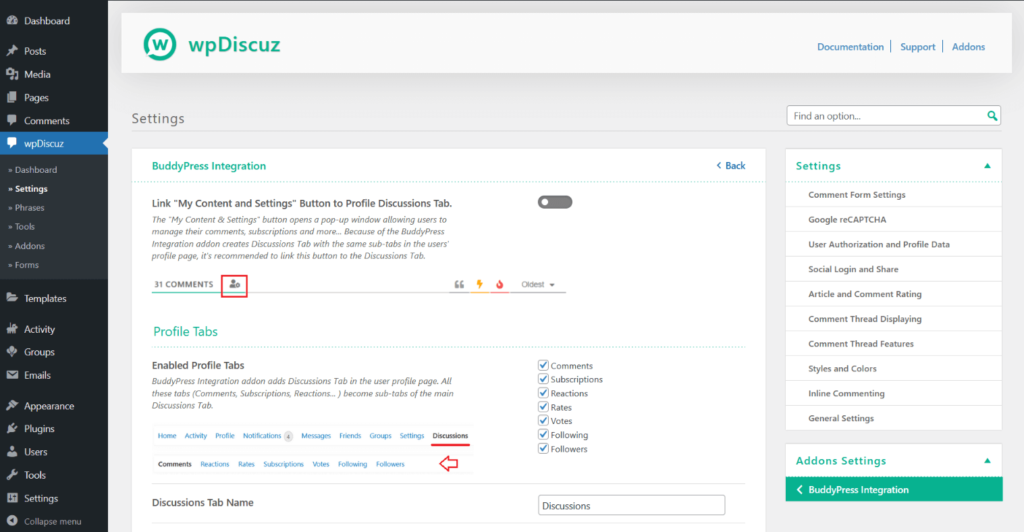 Installation and Configuration
This addon installs like any other plugin for WordPress.
Access to wpDiscuz – BuddyPress Integration addon is provided immediately after you've paid for your order. Upon completing registration/checkout, you may log in at gVectors.com. We will also email you after registration/checkout, with a link to the login page. Then download the installation package.
Navigate to

Dashboard > Plugins > Add New

admin page and upload addon ZIP file, then activate it.
Once the plugin is active, go to

Dashboard > wpDiscuz > Settings > Addons Tab > BuddyPress Integration subTab

to begin configuration…
It'll ask you to activate with license key you got via email or in your account page, just insert the key and activate it.
If for some reason you cannot install this plugin using WordPress plugin upload system please do that with this alternative way. Unzip, and then upload the /wpdiscuz-buddypress-integration/ folder to your /wp-content/plugins/ directory using an FTP application like FileZilla; or any other FTP program is fine also. Make sure you have not double /wpdiscuz-buddypress-integration/wpdiscuz-buddypress-integration/ directories nested inside each other, please correct this before you continue. Then in WordPress, go to WordPress Dashboard > Plugins, and then activate the wpDiscuz – BuddyPress Integration addon.