Ranks and badges not displaying
Hi @cglcb,
Please navigate to Dashboard > Points > Hooks admin page, click on wpForo Integration hook and make sure the following two options are enabled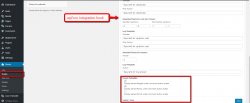 added the code to the function.php as well 
Please let us know what code do you mean?
Please install and activate the Duplicator — WordPress Migration Plugin, backup your WordPress site and send it to info[at]gvectors.com email address to allow us to check it. It's difficult to test on the live website.