Greetings to all the members of the Gvector Team, I realized that after installing the Blog Cross Posting addon on the main page of the forum the words: "More discussion» "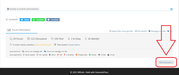 Through the google inspect tool I find that the element is: .wpfcp-article-info 
Is this normal or am I doing something wrong in the setting?
If possible I would not want it to be displayed .. I would like to know whether to work on the addon or css settings to hide the element.
Thanks in advance and have a nice day.