Paid Addons Support Forum Only
Please note, that here we only support Paid Addons issues and questions.
gVectors Support staff works from 6am to 6pm (GMT+0)
All questions related to wpForo and wpDiscuz free plugins should be asked in the corresponding plugin support forum:
[Solved]

Crossposted post isn't syncing wpforo replies as post comments
I'm sorry but I have no clue. You should make sure these options are set correctly in Forum Settings > Addons > Crossposting admin page: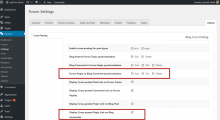 Also, make sure you use the latest version of addon and wpForo plugin. We don't support old version. in case it still doesn't work, please send admin login details to support[at]gvectors.com email address for farther support. I'm sorry but here I have nothing else to add.
Found it was the Invisible recaptcha plugin that was at fault. Sry for the false alert.