Connect old forum posts to blog posts
Hi,
I migrated from a phpbb board to wpforo. I used a cross-post plugin for phpbb and I had all my posts connected to my blog articles.
Is there a way to connect the migrated wpforo topics with my wordpress articles? And will they show up on my Wordpress site?
Thanks in advance!
Dennis
If you want to cross-post old posts just use the [Synchronize] button. It'll find all non-cross-posted posts of selected category and cross-post to according forum as topics.
The option is located in the Dashboard > Forums > Settings > Addons > Cross Posting tab Auto Cross Posting sections.
See the screenshot below: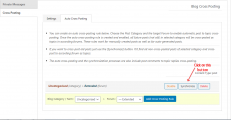 More info here: https://gvectors.com/product/wpforo-cross-posting/
Hi @elvina,
my question was the other way around: There already are cross posted articles in the wpforo (from a phpbb import) but they are not connected to the wordpress articles.
For example: I published a blog article and my phpbb cross-poster posted an excerpt to my phpbb. My users commented on this article. After the migration to wpforo, I'm looking for a connection between the old forum posts alnd my wordpress articles. Is there a way to reconnect them, i.e can I target an already existing wpforo topic and connect it to a certain wp blog article?