Hello everyone,
I have a serious problem with the "Embed" module.
Before it was enough to introduce the link to "Youtube" for example, and everything was OK.
Now, nothing works anymore!
Here is a "screenshot from before":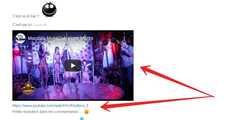 And here is now:  

No more visual on the video !!!
The question, why buy this module if it doesn't work anymore ???  
Sorry to be so direct, but I don't understand why you changed what worked very well before ???
All my members are asking me what's going on !
Urgent help please.
Thank you and have a nice day.
Jacques.