Paid Addons Support Forum Only
Please note, that here we only support Paid Addons issues and questions.
gVectors Support staff works from 6am to 6pm (GMT+0)
All questions related to wpForo and wpDiscuz free plugins should be asked in the corresponding plugin support forum:
Point type shown with lower case letter
Hey guys,
I am having a weird problem with the output of the point type name. It is shown in lower case letters, although the actual html code has a upper case first letter. What you see: "siegpunkte", what the html says and should be shown: "Siegpunkte". Do you have an idea what is causing this?
Best
Johannes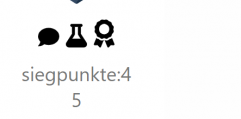 . 
Hi @johannes, 
Please navigate to the Dashboard > Forums > Dashboard admin page click on the "Delete All Caches" button, then go to frontend page click CTRL+F5(twice) on the frontend and check again.
If the issue still exists please leave the example URL to allow us to check it.
Yes, the problem is still there. I wrote you a PM