Paid Addons Support Forum Only
Please note, that here we only support Paid Addons issues and questions.
gVectors Support staff works from 6am to 6pm (GMT+0)
All questions related to wpForo and wpDiscuz free plugins should be asked in the corresponding plugin support forum:
[Solved]

Commenter details display problem
The second member phrase comes from the wpDiscuz Advanced Likers add-on. It's the reputation title of the addon. 
If you'd like to remove it, just navigate to Dashboard > Comments > Settings > Addons > Advanced Likers subtab, find the Comment Author Rating and Badge section, remove the reputation Custom Labels.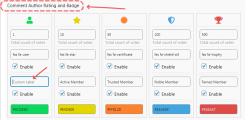 Thanks for your reply.
Could you please tell me where the first "member" comes from? (I may wish to keep the second...)