Paid Addons Support Forum Only
Please note, that here we only support Paid Addons issues and questions.
gVectors Support staff works from 6am to 6pm (GMT+0)
All questions related to wpForo and wpDiscuz free plugins should be asked in the corresponding plugin support forum:
Media Uploader doesn't load pictures
Hi @Astghik,
Here is my client's file which she tried to upload yesterday to my website http://velesna.com/o/dz-3-tsit/ and to your website  http://wpdiscuz.com/addons/wpdiscuz-media-uploader/#comments
Both tries were unsuccessful and she received yesterday this error on your website

.
Here I attach the file which my client couldn't upload on the website. 
So, it means that there are users (not all but some of them) who can't upload from there computers or phones to any website with Media Uploader add-on. 
What can be the issue and what to do?
Thank you!
Hi @vedavi,
Please note wpDiscuz Media Uploader has separate buttons for all types of media and files. Please chose the right button for uploading images. I've attached the file that shows what's wrong the users done.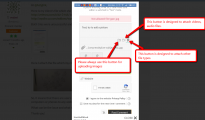 We'll take into consideration to make one button for uploading all file types in future releases.