Paid Addons Support Forum Only
Please note, that here we only support Paid Addons issues and questions.
gVectors Support staff works from 6am to 6pm (GMT+0)
All questions related to wpForo and wpDiscuz free plugins should be asked in the corresponding plugin support forum:
[Solved]

configuring wpDiscuz on multiple posts on the same WP site
Topic starter
06/02/2019 9:21 pm
There are 5 separate posts on a single WP site, which also has 13 other pages of content.  Am configuring wpDiscuz successfully on one post.  Where do I find the settings for enabling wpDiscuz on the remaining 4 posts, please? 
Hi @gmoore70,
Please navigate to Dashboard > Comments > Forms, edit the Default Form make sure it's enabled for post types, save it then do Ctrl+F5 on front-end.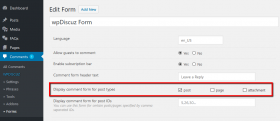 Also please check the points mentioned in this post: 
Topic starter
09/02/2019 2:30 am
Hello @ Astghik,
Thank you for responding. Your instructions worked perfectly. Here are a few clarifications for other readers.  The "number" of the post is displayed in the URL when you have navigated to the post, easy to spot.  With regard to "ctrl-F5", I use the public version of W3 Total Cache, and found it useful to "purge all".  This last became important when I exercised all the form alternatives.  Thanks again, Astghik.