wpDiscuz 7 Beta Version is Released!
Today, on 01.20.2020 we're excited to release wpDiscuz 7 Beta 1 into the wild!
The version 7 has been in development since December 2018. About one year of hard work is ready to be tested. It's hard to believe it's been so long since our last major v5 release, but sometimes good things are worth waiting for.
[Solved]

configuring wpDiscuz on multiple posts on the same WP site
Hi @gmoore70,
Please navigate to Dashboard > Comments > Forms, edit the Default Form make sure it's enabled for post types, save it then do Ctrl+F5 on front-end.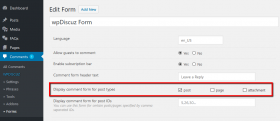 Also please check the points mentioned in this post: 
Hello @ Astghik,
Thank you for responding. Your instructions worked perfectly. Here are a few clarifications for other readers.  The "number" of the post is displayed in the URL when you have navigated to the post, easy to spot.  With regard to "ctrl-F5", I use the public version of W3 Total Cache, and found it useful to "purge all".  This last became important when I exercised all the form alternatives.  Thanks again, Astghik.