I've been with Discuz for two months and everything worked perfectly for me. The other day I installed plugin language_based comment spam condom and when I didn't like it I uninstalled it. Now my registered users and no one can comment with Discuz. When you click on the comment button, the expression "Cheating, eh?" Appears on the red comment box. and the comment is not published, in a few words nobody can comment on my website. I uninstalled Discuz and with the natural comments of wordpress if you can comment. Any solution to fix this problem?
We've just checked on your website and don't find such an issue. See the screenshot below: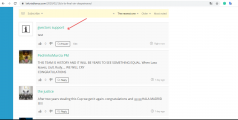 Could you please record some video with the issue.
I have already tried it and it has fixed itself, I don't know how but it has fixed itself. What do I do with this post, I delete it or leave it as is, thanks for the speed