Paid Addons Support Forum Only
Please note, that here we only support Paid Addons issues and questions.
gVectors Support staff works from 6am to 6pm (GMT+0)
All questions related to wpForo and wpDiscuz free plugins should be asked in the corresponding plugin support forum:
General Discussion and Feedback
Posted : 12/08/2022 5:49 pm
The keys are just reset. Now you can activate the addons on a new domain. 
Next time, just click the "Disconnect License" button when you change a domain. It'll disconnect the license, and you'll be able to activate it on another domain.

Posted : 13/08/2022 11:11 am
Thank you.  I'm so sorry but that my new url had issues and I had to change again.  Can you please clear my license again so I can reactivate.  I'm so sorry for my issues.
I've tried to disconnect the license but I don't have that option.  see image...
Again, I'm sorry for needing this again but I just do.
Thanks so much!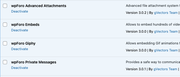 Pat
Posted : 26/08/2022 11:07 pm
Done, the license keys has been reset.
Posted : 26/08/2022 11:47 pm
Posted : 29/08/2022 1:06 am