Paid Addons Support Forum Only
Please note, that here we only support Paid Addons issues and questions.
gVectors Support staff works from 6am to 6pm (GMT+0)
All questions related to wpForo and wpDiscuz free plugins should be asked in the corresponding plugin support forum:
Please My comment form is showing big avatar
Topic starter
24/10/2018 6:28 am
Hi @steve4lyf,
Please reset all minified, optimized cache files. Delete all caches, purge CDN and press Ctrl+F5 on front-end. 
As far as I see the issue is already solved. Could you please check it using another browser?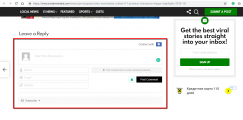 Topic starter
24/10/2018 9:07 am
It appears only for logged in users, not guest. 
i have tried it on several browsers.
Topic starter
24/10/2018 9:25 am
Thanks very much, its fixed .