Description
wpForo Topic Prefix & tags Manager addon is actually designed to make going through the forums and finding threads with the similar content a lot easier. Topic prefixes can be used to filter forums and can be combined with a keyword search to help users find what they are looking for. You can see all topics grouped in a topic prefix by clicking the prefix. A group of forum prefixes can be attached to a certain forum, thus each forum can have its own set of prefixes, specific to that section.
This addon allows your users to choose a thread prefix for each thread. Users can easily select an appropriate prefix from a list beside the title while posting a new thread – for example 'New Album', 'New Song', 'Download', 'Suggestion', 'Help', etc…
All prefix groups, prefixes and tags can be managed in Dashboard > Forums > Topic Prefix admin page. You can create prefix groups and bind to a certain forum. Prefix groups help visitors quickly find the correct topic prefix when they create a new topic. Also, the prefix groups allow you to connect prefixes to forums, so you can use all prefixes of a certain group in certain forum.
Tags are also topic categorizing and grouping components in forums. Finally, you can manage your topic tags very easy. You can add new tags, edit and delete in the Tags Tab. In addition, you can merge tags, bulk delete, convert tags to prefixes while keeping tags or deleting them.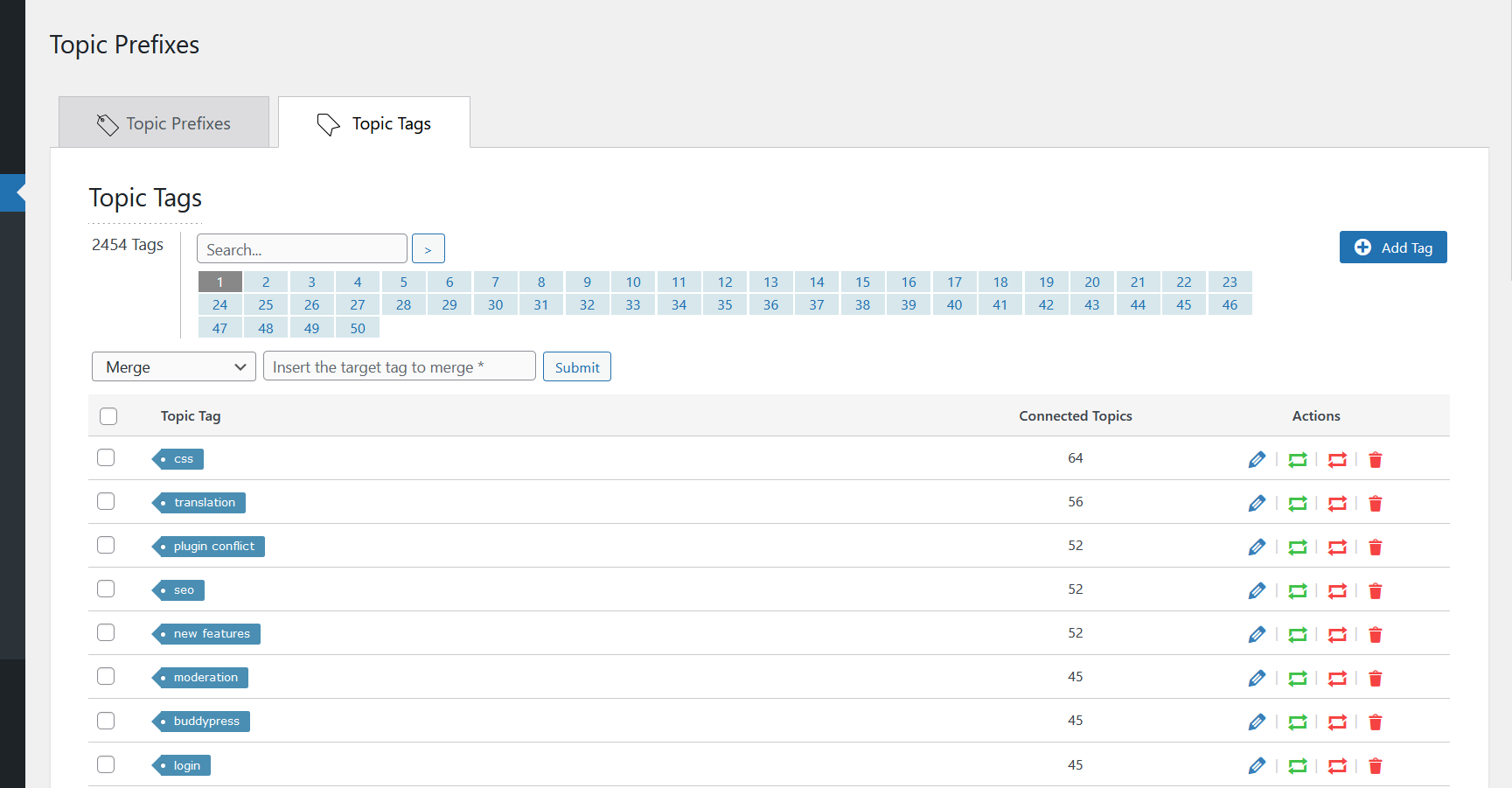 Installation and Configuration
This addon installs like any other plugin for WordPress.
Access to wpForo Topic Prefix & Tag Manager addon is provided immediately once you paid for your order. Upon completing registration/checkout, you may log in at gVectors.com. We will also email you after registration/checkout, with a link to the login page. Then download the installation package.
Downloaded addon zip file from gVectors Shop account page
Navigate to

Dashboard > Plugins > Add new

and upload addon ZIP file, then activate it.
Once the plugin is active, navigate to WordPress

Dashboard > Forums > Topic Prefix

admin page to begin configuration…
It'll ask you to activate with license key you got via email or in your account page, just insert the key and activate it.
If for some reason you cannot install this plugin using WordPress plugin upload system please do that with this alternative way. Unzip, and then upload the /wpforo-topic-prefix/ folder to your /wp-content/plugins/ directory using an FTP application like FileZilla; or any other FTP program is fine also. Make sure you have not double /wpforo-topic-prefix/wpforo-topic-prefix/ directories nested inside each other, please correct this before you continue. Then go to WordPress Dashboard > Plugins, and then activate the wpForo Topic Prefix & Tag Manager  addon.