Description
Create as many custom topic form as you want. Have different set of custom fields in different forms and manage those custom fields for certain usergroups. This addon brings total freedom in topic form and field management.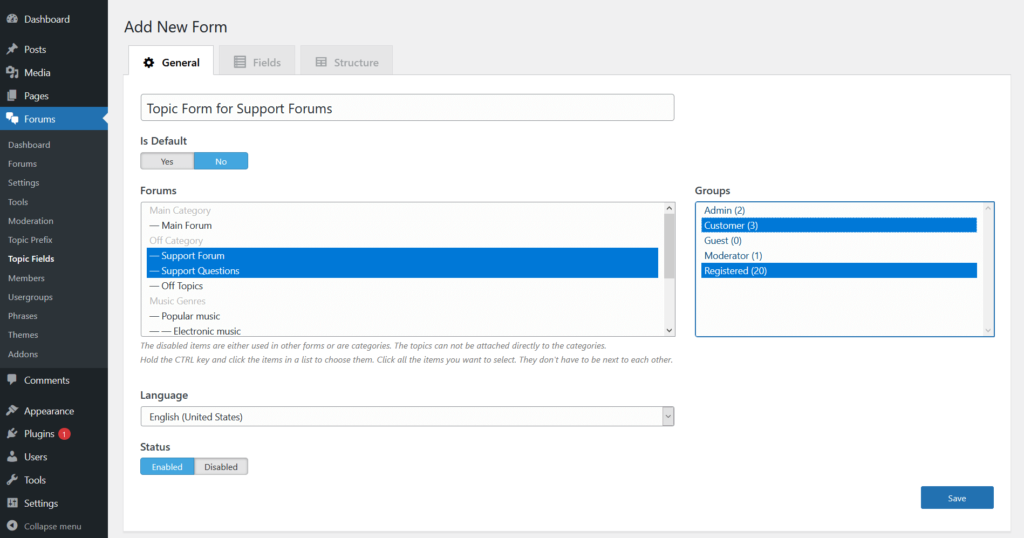 Using the topic form builder you can manage the form structure with rows and columns. Then drag and drop form fields to any place you want. You can create different types of fields like Text, Textarea, WYSIWYG, Phone, Number, URL, HTML, File, Date, Drop-down, Radio, Checkbox. All custom fields can be added in forum search form, so you can search/filter topics by custom fields.
wpForo Topic Custom Fields Features
Allows managing default topic fields and add new custom fields.
Field types: Text, Email, Phone, URL, Date, Number, Drop-down, Radio, Checkbox, Textarea, File Upload, HTML…
Field options: Label, Placeholder, Title, Description, Max/Min length/value, Icon, Required, Only for Guests, etc…
Interactive drag and drop Form Builder tools for topic form. Allows to built form layout (rows, columns) and add fields in certain area of the topic form.
Search / Filter topics by Custom Fields
Custom Topic Form Builder
Custom Topic Form and Fields
Installation and Configuration
This addon installs like any other plugin for WordPress.
Access to wpForo Topic Custom Fields addon is provided immediately once you paid for your order. Upon completing registration/checkout, you may log in at gVectors.com. We will also send you an email after registration/checkout, with a link to the login page. Then download the installation package.
Downloaded addon zip file from gVectors Shop account page
Navigate to Dashboard > Plugins > Add new and upload addon ZIP file, then activate it.
Once the plugin is active, navigate to WordPress Dashboard > Forums > Topic Fields to begin configuration…
It'll ask you to activate with license key you got via email or in your account page, just insert the key and activate it.
If for some reason you cannot install this plugin using WordPress plugin upload system please do that with this alternative way. Unzip, and then upload the /wpforo-topic-custom-fields/ folder to your /wp-content/plugins/ directory using an FTP application like FileZilla; or any other FTP program is fine also. Make sure you have not double /wpforo-topic-custom-fields/wpforo-topic-custom-fields/ directories nested inside each other, please correct this before you continue. Then in WordPress, go to WordPress Dashboard > Plugins, and then activate the wpForo User Custom Fields addon.