Description
This addon integrates your wpForo forum with SureMembers plugin. This is a powerful combo to create a membership forum and control your member's access to categories and forums for each usergroup separately.
As it's said in the plugin page: "Sell and Grow your Membership Site with Ease. SureMembers is the fastest and easiest way to protect content on your website". And all the features of this plugin are integrated with wpForo forum plugin.
Restricting Categories and Forums
Restricting a forum will prevent non-members from seeing any of the forum's topics. You should individually restrict each forum that you want to hide from non-members; you cannot do this by restricting a parent forum (category), as restrictions won't be inherited. However, the restriction will affect the all topics of the forum.
The forum access restriction is based on users' Access Groups. You can grant different forum access to each access group in Dashboard > wpForo > Forums admin page by editing any forum you want, as it shown on the screenshot below: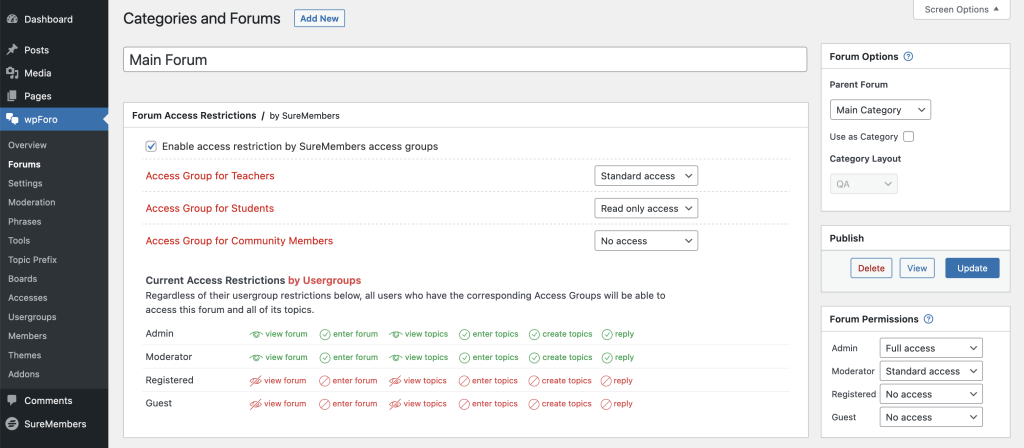 For example, you can let members with Access Group for Students only read the topics and posts of certain forum by setting [Read Only] access to that plan. As well as you can grant [Standard Access] to Access Group for Teachers allowing users with this access group to read topics, create new topics and reply to that topics.
You can create custom forum accesses with any set of permissions in Dashboard > wpForo > Forum Accesses admin page, then use that forum accesses to grant to different Access Groups of SureMembers plugin.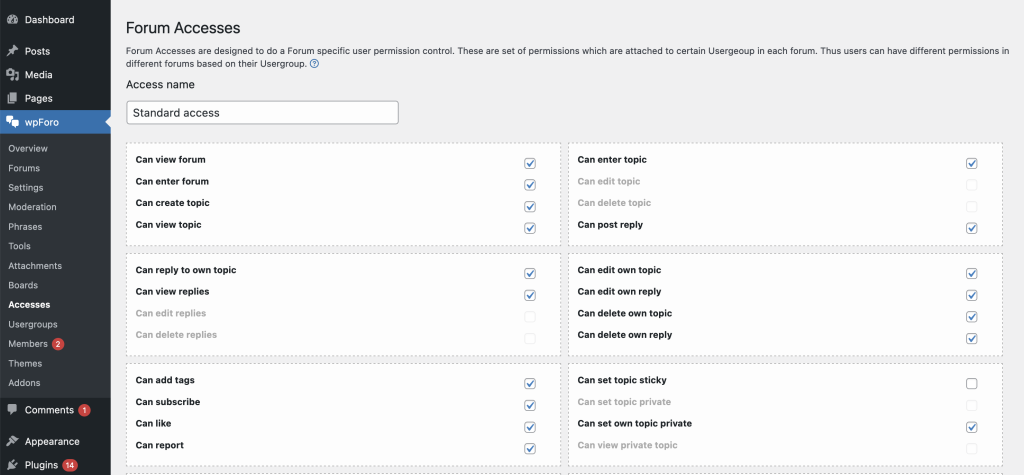 Forum Accesses by SureMembers Access Groups vs wpForo Usergroups
By default, forum accesses are granted to Usergroups. Each Usergroup has its forum access settings in the Forum Permissions admin section located on the right sidebar of the forum editing screen. If you want to manage forum access based on SureMembers Access Groups, we recommend setting [No Access] for all Usergroups except Admins and Moderators. Access Groups take precedence over Usergroup restrictions. Therefore, regardless of Usergroup restrictions, all users with access to a forum through SureMembers Access Groups will be able to access the forum and its topics. So, you can confidently set [No Access] for all non-admin and non-moderator Usergroups and not worry about whether users in those usergroups with an Access Group will be able to access the forum. The Access Group will grant them access as you've configured it, even if the usergroup has [No Access] to that forum.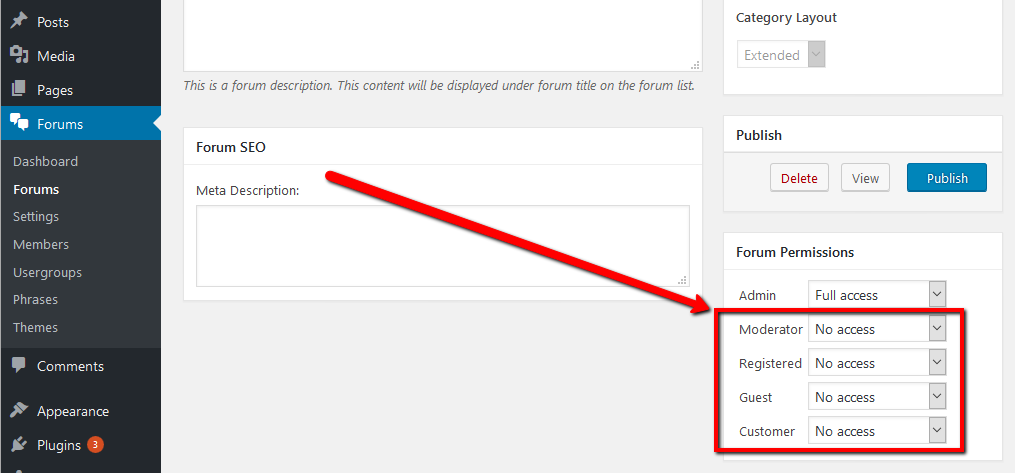 Installation and Configuration
First make sure the SureMembers plugin is installed, activated and Access Groups are created.
Then install the wpForo – SureMembers Integration addon:
This addon installs like any other plugin for WordPress.
Access to wpForo – SureMembers Integration addon is provided immediately once you paid for your order. Upon completing registration/checkout, you may log in at gVectors.com. We will also email you after registration/checkout, with a link to the login page. Then download the installation package.
Downloaded addon zip file from gVectors Shop account page
Navigate to

Dashboard > Plugins > Add new

and upload addon ZIP file, then activate it.
Once the plugin is active, navigate to WordPress

Dashboard > wpForo > Forums

admin page, edit a forum you want to restrict and  begin configuration…
It'll ask you to activate with license key you got via email or in your account page, just insert the key and activate it.
If for some reason you cannot install this plugin using WordPress plugin upload system, please do that with this alternative way. Unzip, and then upload the /wpforo-suremembers/ folder to your /wp-content/plugins/ directory using an FTP application like FileZilla; or any other FTP program is fine also. Make sure you have not double /wpforo-suremembers/wpforo-suremembers/ directories nested inside each other, please correct this before you continue. Then go to WordPress Dashboard > Plugins, and then activate the wpForo – SureMembers Integration addon.