Need Help With Custom Fields
Under Member Fields I created a Custom Profile Field in the Users Field Manager Tab. I then added it to the active section by moving it up on the Profile Page Tab. I hit save on both and if I go to my Profile Page Tab it shows up. 
However, when i go to my forums and try and edit my profile, the block isn't showing up at all as an option. 
Can anyone tell me what I've done wrong or what step I skipped?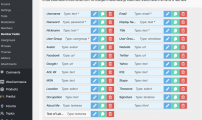 First you should add this field in Account Page. Then you should go to that page and save a value for this field. Then you'll be able to see that on Profile page.