When I set Topic Fields as Required and a guest user does not fill in the field, the input in the textfield will be deleted by the error message. This is very unpleasant for the guest.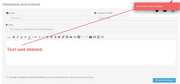 Is that a BUG or a wrong attitude from me?
Thanks, Thorsten from Münster in Germany.