Hello,
I purchased the private messages and the advanced attachments addon.
After activation, non-admin users can no longer reply to posts or write messages. Instead of the reply box, a loading symbol appears. See attachment.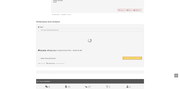 Users with 0 posts can write messages. That is not the problem.
Can you help me?
Thanks!