How do I embed a Flickr group pool?
Further, I tried linking to an individual Flickr stream, and it just displays the Flickr logo:
Thank you meorime,
We've just tested and it seems everything works fine.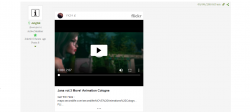 https://coyotetalk.com/index.php/share/testing/#post-16
Could you please describe when exactly this issue happens (maybe on a specific browser or mobile)? 
Okay, edited your post and notice that you linked directly to an image in the group pool:
I'd like to be able to link to the group pool without choosing a starting image so that it always updates with whatever is newest.  Then I'd like it to move through the images in that Flickr group not the individual person's Flickr feed.  That link would be: