Paid Addons Support Forum Only
Please note, that here we only support Paid Addons issues and questions.
gVectors Support staff works from 6am to 6pm (GMT+0)
All questions related to wpForo and wpDiscuz free plugins should be asked in the corresponding plugin support forum:
Page Breaking Using Media Embed & Cross Post Paid Plugins
Not sure why it looks like there is a ton of breaks before the video embed with the paid plugin. It also does it when using the Blog Post to Forum paid plugin as well. Not sure what is going on, but would like some help to find out the issue(s).
Website is currently in a Coming Soon Mode, but can give you access if you need it.
www.bowlingsocial.net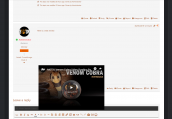 Hi @sparkgfx,
Yes, we'll need the accesses to check the issue. I think this is just a small CSS conflict with theme or other plugins.