Paid Addons Support Forum Only
Please note, that here we only support Paid Addons issues and questions.
gVectors Support staff works from 6am to 6pm (GMT+0)
All questions related to wpForo and wpDiscuz free plugins should be asked in the corresponding plugin support forum:
[Solved]

Attachments are not shown in posts
Hi dear Team of gvectors, 
recently we've noticed that pictures attached to posts aren't shown in that posts. 
In the Wordpress backend "media library" - "forum attachments" we can see the pictures.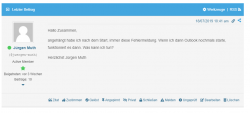 The strange about it is, that it has worked before. 
The Plugin is updated to the most recent version. 
wpForo - Version 1.6.2
wpForo Advanced Attachments - Version 1.3.3
Can you help us?
Thank you for your feedback and best wishes from germany,
Timo Kienzle
Hi @timokienzle,
Please register some new testing user and send the user's login details to info[at]gvectors.com email address to allow us to check it. 
For testing reason please change the value of the "Min number of posts to be able attach files" field to 0 to allow us to test it. The option is located in the Dashboard > Forums > Tools > Antispam admin page.