[Solved]

Ads dont show up
Hi @uniwhale,
Could you please confirm that you use the Text mode of the editor when you insert the ad code? Delete the inserted code switch to the Text mode and insert it again. The code inserted in Visual mode is already damaged.  Please see the screenshot: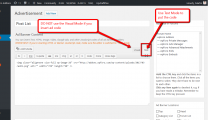 Hi @uniwhale,
It seems you have JS errors on your website. We'll need admin accesses to find the reason of this error. Please send admin login details to support[at]gvectors.com email address.
Hi @uniwhale,
Thank you for access data. We just checked the Ad editor. It works fine, we can switch to the text mode.
Test video: https://www.screencast.com/t/qjjg1FTV
Please try again and put all ad codes using text mode. The visual mode is only for custom ads made by you (text images links). For all 3rd party ads codes you should use the text mode. All codes should be inserted as a simple text.