Paid Addons Support Forum Only
Please note, that here we only support Paid Addons issues and questions.
gVectors Support staff works from 6am to 6pm (GMT+0)
All questions related to wpForo and wpDiscuz free plugins should be asked in the corresponding plugin support forum:
Los Stars
Hey There!
Today we skip our WPDiscuz formular from published to draft. After skip back to published we noticed that the given stars we got from the users in the past are gone in the commentary fields.
Is there a way to "enabled" the given stars again?
our site: www.hello-world.net
thnx for helping
best regards from Germany
Hi @nick776,
Thank you for contacting us. 
Is there a way to "enabled" the given stars again?
Sure, the stars will not be supposed to be lost in this case. 
We've just tried the following steps: 
We created a new comment form called "Test" and created a new Rating field there
Enabled the "Test" form for the post types
Several times we've rated the article
Then we've trashed the "Test" comment form
After this, the rating disappears, as expected
Then we've restored the "Test" comment form
Edit it and found that the post types are not enabled in the "Display comment form for post types" option, so we've enabled it for the post type
Then we've deleted all caches and check it again all ratings we've made before appears again. 
I guess currently you have two comment forms with rating fields, don't you? If so please edit the comment form you've trashed and make sure the "Display comment form for post types" option is checked for the post types.
If you won't be able to manage this, please send the admin login details to info[at]gvectors.com email address, we'll check and provide a solution for you. 
Hey There!
thnx for helping.
Yes we have two comment forms but only one have a rating field. The comment form without a rating field is for pages that are using WP Recipe Maker (ID 1896, 12911).
The other comment form with rating fields is for the rest of our sites. At this comment "Display comment form for post types" is checked as you can see at the screenshot
This whole solution works really fine in the past. Till at this point I set the comment form to "draft" and after 10min back to published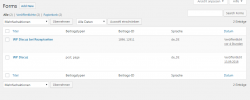 You got it. Pls be careful. It is our livesite...