Paid Addons Support Forum Only
Please note, that here we only support Paid Addons issues and questions.
gVectors Support staff works from 6am to 6pm (GMT+0)
All questions related to wpForo and wpDiscuz free plugins should be asked in the corresponding plugin support forum:
Frontend Moderation not showing
Hey Guys, i got some issues here getting your Plugins to work:
I Installed and Activated the Plugin and also inserted my license Key, but no Front-End moderation is available like shown in your Screenshot or the Demo-Page.
This is a post with 2 Unapproved Comments: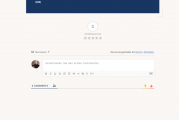 Any ideas?
Hi @simon-muller,
Could you please totally disable WP Rocket cache (with CDN) during this support period?