Paid Addons Support Forum Only
Please note, that here we only support Paid Addons issues and questions.
gVectors Support staff works from 6am to 6pm (GMT+0)
All questions related to wpForo and wpDiscuz free plugins should be asked in the corresponding plugin support forum:
Plugin activate but not working
Hi @thomas-artigue,
We've just checked on your website and don't find such an issue. Everything works as expected.
Please see the recorded video below: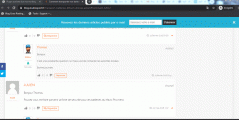 More info here: https://gvectors.com/product/wpdiscuz-advanced-likers/