Paid Addons Support Forum Only
Please note, that here we only support Paid Addons issues and questions.
gVectors Support staff works from 6am to 6pm (GMT+0)
All questions related to wpForo and wpDiscuz free plugins should be asked in the corresponding plugin support forum:
[Solved]

Where can I find my order details and activation keys?
I have just purchased Advanced Attachments but cannot find the activation key anywhere!
Where can I find it?
Topic starter
Posted : 04/06/2021 8:41 pm
Hi @ernest-klokow,
Thank you for your order. The email with order details (download links and license keys) has been sent to your gVectors Account email address right after the payment, please check the spam-box if you cannot find it in the inbox: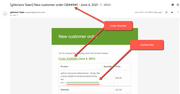 The same information you can find in My Account > Orders page, click the [view] button of the order and find all details:

Posted : 06/06/2021 9:48 am