So I have noticed that right now videos aren't embedded at 100% width.
It's smaller than pictures: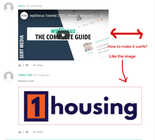 How to set this up so that videos would also be embedded at 100% width?
Maybe there's an option that I'm missing?
If not, where should I look for in plugin php file to make it 100% width and auto height?
I really need this.
The video is a bit small right now imo.
Thanks in advance.
R.