Paid Addons Support Forum Only
Please note, that here we only support Paid Addons issues and questions.
gVectors Support staff works from 6am to 6pm (GMT+0)
All questions related to wpForo and wpDiscuz free plugins should be asked in the corresponding plugin support forum:
[Solved]

Points display issues
Hello, 
There are a few issues with the displaying of points.  They currently display like this: points:19000
I believe they should look like this: Points: 19,000
1. The P should be capitalized like it is in the wpForo myCRED addon. 
2. There should be a space right after the colon and before the first digit. It's also like it is in wpForo myCRED addon.  
3. There should be a use of a comma when thousandths are used.  This is also an issue is the wpFORO addon and should be fixed there as well. 
You can see the attached screenshots for reference.
wpDiscuz example

wpForo example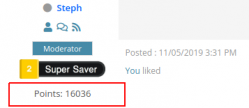 Thank you, 
-Chris
Hi @chris-r,
Please leave the example URL to allow us to check it.
Hi Elvina, 
I explained the situation to the MyCred developers and heard back from them.  This is their response:
These are third party plugins they are not using the function which adds the comma in the points.
They can use the below example code in their plugins to make the points format as per the settings.

$point_balance = new myCRED_Point_Type();

$point_balance->format( 16040 );

https://codex.mycred.me/objects/mycred_point_type/

 
Hopefully this helps. 
Thank you, 
-Chris