Paid Addons Support Forum Only
Please note, that here we only support Paid Addons issues and questions.
gVectors Support staff works from 6am to 6pm (GMT+0)
All questions related to wpForo and wpDiscuz free plugins should be asked in the corresponding plugin support forum:
[Solved]

The problem with avatars in a bundle wpDiscuzz + xPress
Hi, I am currently using the blog + forum bundle (xenforo) as a bridge I chose xPress and encountered a problem during the setup process:
xPress sets avatars for users in comments according to the settings in xenforo, if you use standard Wordpress comments, then all avatars look like they are set in xenforo, but when you enable wpDiscuz as comments, then everywhere avatars change, except those that are displayed near the comments there they remain as "mystery man" or gravatars.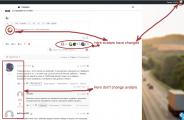 Tell me what to do to change the avatars and comments near.
This topic was modified 1 year ago 2 times by
xDealer
Upd.
Moving the site from the local server to your second domain saw that the whole problem in the user cache and browsing in incognito mode - everything works correctly.
Sorry to bother you.
I also apologize for my poor English.
Hi @xdealer,
Thank you for letting us know. Glad to hear that the problem is solved.