Paid Addons Support Forum Only
Please note, that here we only support Paid Addons issues and questions.
gVectors Support staff works from 6am to 6pm (GMT+0)
All questions related to wpForo and wpDiscuz free plugins should be asked in the corresponding plugin support forum:
[Solved]

Invisible Captcha?
Topic starter
23/11/2018 7:22 pm
I have invisible captcha set. Doesn't this mean there should be no captcha box shown?  It is still showing up. Perhaps I'm missing something. 
You can click on any post here:  https://www.InterestingAnswers.com
Thanks
Hi @ryansmccain,
This designed to work this way. The reCAPTCHA priority is higher, so it 'll display in any case. 
The Invisible Spam Protection in the core of wpDiscuz. For an advanced antispam protection, we developed the wpDiscuz – Google reCAPTCHA add-on.
Topic starter
24/11/2018 5:50 pm
I have that add-on. I got it to avoid the pop of asking people to select buses or lights or whatever. I just want the check box. How do I do that?
Thank you
Hi @ryansmccain,
You've purchased Google reCAPTCHA not the Google Invisible CAPTCHA. wpDiscuz doesn't have Google Invisible CAPTCHA addon. The Google reCAPTCHA comes with checkboxes and sometimes with  pop-up questions
You should know that the reCAPTCHA is the Google product and the checkbox as well as the other features (pop of asking people to select buses) are the part of that product. It's the working logic of Google reCAPTCHA, Sometimes it asks for that, sometimes not, it depends on your device and connection security. If you see that pop-up questions, it doesn't mean others also see that so often. The wpDiscuz Google reCAPTCHA addon only loads that Google product in your comment form but it can't control Google antispam logic. Nobody can stop that pop-up questions. If Google decides to show that,  then it shows that. There is no way to separate the checkbox and the pop-up functions. Checkbox exists always but the pop-up questions come only when Google decides to send it, when it suspects something. And I'm really sorry there is no way to stop them.
By default wpDiscuz has an invisible anti-spam protection too. However it'll be disabled once the wpDiscuz Google reCAPTCHA addon is installed. More info in wpDiscuz documentation: https://wpdiscuz.com/docs/wpdiscuz-documentation/settings/comment-form/#note_about_spam_protection
Topic starter
25/11/2018 8:52 pm
Oh I see. I thought they worked together.
I've disabled the Google reCaptcha plugin and have invisible catpcha enabled AFAIK and my comments are now asking a captcha.
See here:
Or you can just to to  https://www.InterestingAnswers.com <.
Notice it looks like the native captcha and not Google's.
Here is a screenshot of my settings:
I've cleared CDN and WP caches.
Thanks.
This is wpDiscuz Native Simple CAPTCHA. You should deactivate it. Please navigate to Dashboard >  Comments > Forms admin page, edit the Default Form. The CAPTCHA filed has an edit icon and option to disable it, just use them: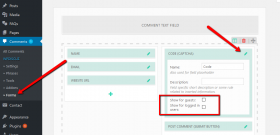 Don't forget delete all caches and press Ctrl+F5 on website front-end again.
Topic starter
26/11/2018 4:21 pm
Ohhhh. in the form settings itself. Thanks. That did it.