Paid Addons Support Forum Only
Please note, that here we only support Paid Addons issues and questions.
gVectors Support staff works from 6am to 6pm (GMT+0)
All questions related to wpForo and wpDiscuz free plugins should be asked in the corresponding plugin support forum:
CloudFront and wpDiscuz
Topic starter
16/03/2020 5:17 pm
We use wpdiscuz comment system and we want to use AWS cloudfornt on our site. But when turn CloufFront on  we are getting a lot of errors as
"Access to XMLHttpRequest at 'js' from origin 'host' has been blocked by CORS policy: No 'Access-Control-Allow-Origin' header is present on the requested resource.
As a solution we tried to dis-register wpdiscuz.js (and other plugin js files) and put it directory to footer, or display via php object buffer. Also we tried different config with native.ajax/wp-discuz ajax. So how can we use wpdiscuz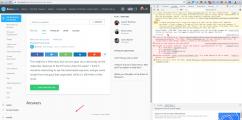 with cloudfront without conflicts?
Thanh you!
Hi @sasha,
Please navigate to Dashboard > Comments > Settings > General admin page, enable the "Use WordPress native AJAX functions" option, delete all caches and check again. 
Don't forget to press CTRL+F5 on the frontend before checking. 
If it doesn't help please try to exclude the wpDiscuz plugin from the AWS CloudFront.  
Topic starter
17/03/2020 4:59 pm
Can you please suggest how to  exclude the wpDiscuz plugin from the AWS CloudFront?
Thank you!