[Solved]

Changing hyperlink color
This is not working for me in the latest wpDiscuz 5.0.2. I thus have the same question again (preferable with using the 'wpdiscuz.css' file in the Themes directory):
How can I change the color of a hyperlinks in the comments? In my case they have the same color as the other comment-text thus you cannot see it.
See also below where word 'forum' is a hyperlink: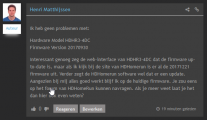 This does not solve the problem. Still the hyperlink is shown in the same color.
Further I actually do not want to change the wpDiscuz Style to Dark as I made some changes in the copy of the wpdiscuz.css file in Themes directory for the default style.
This means I still have the same question: "Which setting to change/adapt in the wpdiscuz.css file so the hyperlink is shown in a different color." (for the default style).
Thank you very much in advance for your assistance.